Today I'm going to tell you how to easily create a digital catalogue in no time. Simply download one of my professional catalogue design templates and replace the content with your own text and images. After that, you can upload your final PDF onto a great digital publishing website I've come across. If you haven't made a digital catalogue yourself yet, then you should do so right now with Yumpu.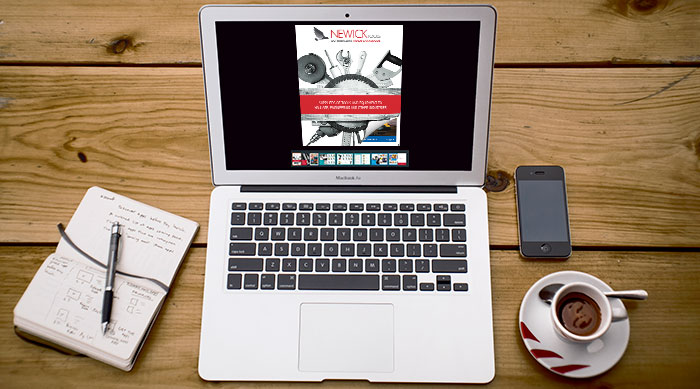 An impressive online catalogue to show off your newly created content is important if you want to attract visitors to your website or engage your current visitors. So what kind of catalogue design software does a company need in order to create an engaging, interactive catalogue? And what kind of expertise is needed to use that software effectively?
Catalogue Design Template

If you already have a catalogue in PDF form, then you can skip this section and continue with the next one.

In case you don't have a catalogue design yet, you need to create your catalogue first and save it as a PDF afterwards. However, designing a catalogue can be realitvely tricky and time-consuming if you're not proficient in working with Photoshop or InDesign. Therefore, I designed three different templates in Photoshop and InDesign. You can simply replace the content with your own, individual text and images. Just download one of the three templates below for free, adapt it to your own purposes and save it as a PDF file.

How I used Yumpu to create an engaging, interactive, responsive digital catalogue

If you want to truly impress and engage your customers with an interactive flip book that mimics the functionality of a printed catalogue, then you will still need to turn your initial PDF catalogue into a functional flipbook. Considering that this involves interactivity and animation for turning pages, this might seem like it should be both the most difficult and most expensive step. In fact, it is probably the easiest and is by no means costly, because specialist catalogue design software tools exist that do this almost entirely automatically. You simply select your PDF source document, customise a few simple settings, and the program will output a completed and fully-functional interactive flipbook catalogue.
Yumpu is one of the leading digital catalogue creators on the market and the application is based on a publishing platform that simulates the experience of reading a print publication online. Over 20 million online magazines have been published through their website including leading and emerging titles in fashion, culture, arts, and hyperlocal content, all of which can be viewed on any device.
Now that I got that out of the way I can tell you why I love this catalogue maker so much. My friend Marcus told me about it months ago when I needed to find an application to create a catalogue online for free. I don't know about you but I'm not the type to turn down a software freebie. Whether it was a trial version or not, if it was going to help me get my catalogues together, then I was all for it.
I got home that day after my conversation with Marcus and went onto the website he'd recommended. I created a free account and settled in for an evening of catalogue making.
Only it wasn't an evening at all!
It only took me about 10 minutes to upload a PDF onto Yumpu, optimize it and share it onto social media using the application's incredibly speedy social media optimized sharing feature. All it took to put my catalogue together was uploading my PDF onto the website. After that, it had been a matter of using Yumpu's hotspot editor to add video, sounds, links and a slideshow to my publication. It was so easy! Even though my job pretty much requires me to put digital catalogues together every day, it was the first time I'd worked with an application that was so straight forward. Before starting off I'd noticed the promise from their software developers to take care of all the technical details themselves, but the fact that they actually did was amazing!
Of all the features packed in the free version of this application I have to say I was most excited about the live option for Facebook, where viewers could flip through publications created on the platform without having to leave their page. With that in mind, I shared my catalogue onto social media. Everyone loved it and wanted to know how I could design such amazing catalogues on my own.
The images translated so well via email and social media that I found myself explaining over and over to people about the optimized content delivery feature that ensured that content was always viewed sizable no matter what device was being used. I got a lot of questions about how I'd managed to include and implement media into the catalogue design that was so streamlined and brand specific. I told everyone that all I'd needed to do was sit back and let Yumpu do all the work!
The best network ever!
Yumpu really helped me build my network in a unique way. When I uploaded my catalogues onto the website, I got tons of unexpected feedback from people I didn't know, some of whom were Yumpu users themselves who had seen my catalogue designs on the site's suggested viewing listing. Before using this application I really thought I had a good idea of what the ideal interactive catalogue needed to be, but after seeing the final result I got for free from this amazing tool, I will be the first to admit that I didn't have a clue. If you want to see what I mean you can create catalogues for free here: Yumpu.com!